On this page you enter the a command that will be executed after successful installation.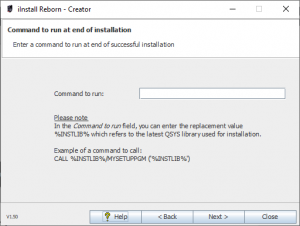 The purpose of this is, that you can have an installation/setup program executed, that will do what is needed to get your software up and running.
Meaning of the field:
Field
Description
Command to run
In this field you must enter the command to be called when the installation was successful. The field support the following replacement value:

 

%INSTLIB%
At run-time this replacement value will be replaced by the latest /QSYS.LIB library used for installation.
If you have created a package that first installs into the library 'MYLIB1' and then installs into the library 'MYLIB2', then this replacement value will contain 'MYLIB2'.

You can enter the replacement value in upper or lower case.
Example of command to be executed at the end of a successful installation:
CALL %instlib%/MyInstPgm Parm('%instlib%')
Please note, that if the package will only contain IFS folders and objects, a library will never be found, and in this case the command must not refer to the replacement variable %instlib%.
In case your program concludes that it cannot perform what it was coded to do, it should send a message of type *ESCAPE to the caller. This message will be displayed to the user.
Added in V1.50.
Below please find an example of a program to be called after a successful installation.
This example is an IBM i® Control Language program.
/*                                                                 */
/* SRCINSCL                                                        */
/* --------                                                        */
/* Example of a program to be called from iInstall to install      */
/* source members into a software system. The source members are   */
/* then compiled and finally removed from the distribution source  */
/* file.                                                           */
/*                                                                 */
/* The program takes two parameters. The first '&INSTLIB' is the   */
/* name of the library in which the source file containing the new */
/* source members exist. The second parameter '&TARGETLIB' is the  */
/* name of the library in which the source members are to be       */
/* copied. Also, this is the library where the programs will be    */
/* compiled.                                                       */
/*                                                                 */
/* The field 'Command to run after installation' must contain the  */
/* value:                                                          */
/*                                                                 */
/* CALL %INSLIB%/SRCINSCL PARM('%INSTLIB%' 'INVOICESYS')           */
/*                                                                 */
/* This indicates that you have a library called 'INVOICESYS' that */
/* is to be the target of the installation. Of cause this must be  */
/* adjusted to your installation.                                  */
/*                                                                 */
/* Further, the source file 'QCORRSRC' could be installed in a     */
/* library called 'PATCH', and you should say NO to overwrite the  */
/* the file and YES to create the library.                         */
/*                                                                 */
             PGM        PARM(&INSTLIB &TARGETLIB)

             DCL        VAR(&INSTLIB) TYPE(*CHAR) LEN(10)
             DCL        VAR(&TARGETLIB) TYPE(*CHAR) LEN(10)
             DCL        VAR(&TARGETSRC) TYPE(*CHAR) LEN(10)
             DCL        VAR(&MEMBER) TYPE(*CHAR) LEN(10)
             DCL        VAR(&MBRTYPE) TYPE(*CHAR) LEN(10)
             DCL        VAR(&COMPCMD) TYPE(*CHAR) LEN(200)

             DCL        VAR(&MSGID) TYPE(*CHAR) LEN(7)
             DCL        VAR(&MSGDTA) TYPE(*CHAR) LEN(100)
             DCL        VAR(&MSGF) TYPE(*CHAR) LEN(10)
             DCL        VAR(&MSGFLIB) TYPE(*CHAR) LEN(10)
             DCL        VAR(&ERRORFL) TYPE(*LGL)
/*                                                                  */
/* Set-up a global error handler.                                   */
/*                                                                  */
             MONMSG     MSGID(CPF0000 MCH0000) EXEC(GOTO CMDLBL(ERROR))
/*                                                                  */
/* Verify that the source file and the target library exist.        */
/*                                                                  */
             CHKOBJ     OBJ(&INSTLIB/QCORRSRC) OBJTYPE(*FILE) AUT(*ALL)
             CHKOBJ     OBJ(QSYS/&TARGETLIB) OBJTYPE(*LIB) AUT(*USE)
/*                                                                  */
/* Establish a loop that will find the *FIRST member of the file.   */
/* We use '*FIRST' because we will delete the member after the.     */
/*                                                                  */
 LOOP:       RTVMBRD    FILE(&INSTLIB/QCORRSRC) MBR(*FIRST) +
                          RTNMBR(&MEMBER) SRCTYPE(&MBRTYPE)
             MONMSG     MSGID(CPF3019) EXEC(RETURN)
/*                                                                  */
/* Set-up name of target source file. Value '*NONE' is used to check */
/* if we found a source file that correspond to the source member   */
/* type.                                                            */
/*                                                                  */
             CHGVAR     VAR(&TARGETSRC) VALUE('*NONE')
/*                                                                  */
/* RPG program?                                                     */
/*                                                                  */
             IF         COND(&MBRTYPE *EQ 'RPG') THEN(DO)
             CHGVAR     VAR(&TARGETSRC) VALUE('QRPGSRC')
             CHGVAR     VAR(&COMPCMD) VALUE('CRTRPGPGM' *BCAT +
                          &TARGETLIB *TCAT '/' *CAT &MEMBER *BCAT +
                          'SRCFILE(' *CAT &TARGETLIB *TCAT '/' *CAT +
                          &TARGETSRC *TCAT ')')
             ENDDO
/*                                                                  */
/* Display file member?                                             */
/*                                                                  */
             ELSE       CMD(IF COND(&MBRTYPE *EQ 'DSPF') THEN(DO))
             CHGVAR     VAR(&TARGETSRC) VALUE('QDDSSRC')
             CHGVAR     VAR(&COMPCMD) VALUE('CRTDSPF' *BCAT +
                          &TARGETLIB *TCAT '/' *CAT &MEMBER *BCAT +
                          'SRCFILE(' *CAT &TARGETLIB *TCAT '/' *CAT +
                          &TARGETSRC *TCAT ')')
             ENDDO
/*                                                                  */
/* Phycial file member?                                             */
/*                                                                  */
             ELSE       CMD(IF COND(&MBRTYPE *EQ 'PF') THEN(DO))
             CHGVAR     VAR(&TARGETSRC) VALUE('QDDSSRC')
             CHGVAR     VAR(&COMPCMD) VALUE('CRTPF' *BCAT +
                          &TARGETLIB *TCAT '/' *CAT &MEMBER *BCAT +
                          'SRCFILE(' *CAT &TARGETLIB *TCAT '/' *CAT +
                          &TARGETSRC *TCAT ')')
             ENDDO
/*                                                                  */
/* Logical file member?                                             */
/*                                                                  */
             ELSE       CMD(IF COND(&MBRTYPE *EQ 'LF') THEN(DO))
             CHGVAR     VAR(&TARGETSRC) VALUE('QDDSSRC')
             CHGVAR     VAR(&COMPCMD) VALUE('CRTLF' *BCAT +
                          &TARGETLIB *TCAT '/' *CAT &MEMBER *BCAT +
                          'SRCFILE(' *CAT &TARGETLIB *TCAT '/' *CAT +
                          &TARGETSRC *TCAT ')')
             ENDDO
/*                                                                  */
/* Control Language member?                                         */
/*                                                                  */
             ELSE       CMD(IF COND(&MBRTYPE *EQ 'CLP') THEN(DO))
             CHGVAR     VAR(&TARGETSRC) VALUE('QCLSRC')
             CHGVAR     VAR(&COMPCMD) VALUE('CRTCLPGM' *BCAT +
                          &TARGETLIB *TCAT '/' *CAT &MEMBER *BCAT +
                          'SRCFILE(' *CAT &TARGETLIB *TCAT '/' *CAT +
                          &TARGETSRC *TCAT ')')
             ENDDO
/*                                                                  */
/* If the member type did not correspond to one we know about, then */
/* issue an error message. Please note, that the '*ESCAPE' msg type */
/* is what makes iInstall understand that something went wrong and  */
/* therefore, the message must be shown to the user.                */
/*                                                                  */
             IF         COND(&TARGETSRC *EQ '*NONE') THEN(SNDPGMMSG +
                          MSGID(CPF9898) MSGF(QSYS/QCPFMSG) +
                          MSGDTA('The member' *BCAT &MEMBER *BCAT +
                          'was found in the source file' *BCAT +
                          &INSTLIB *TCAT '/QCORRSRC, type' *BCAT +
                          &MBRTYPE *TCAT '. Do not know what to do +
                          with it. Call your supplier.') +
                          MSGTYPE(*ESCAPE))
/*                                                                  */
/* Copy the source member to the correct library/source file.       */
/*                                                                  */
             CPYSRCF    FROMFILE(&INSTLIB/QCORRSRC) +
                          TOFILE(&TARGETLIB/&TARGETSRC) +
                          FROMMBR(&MEMBER)
/*                                                                  */
/* Execute the compile command.                                     */
/*                                                                 */
             CALL       PGM(QSYS/QCMDEXC) PARM(&COMPCMD 200)
/*                                                                  */
/* If everything went well (errors are catched by the global error  */
/* handler) we can remove the source member from the correction     */
/* source file.                                                     */
/*                                                                  */
             RMVM       FILE(&INSTLIB/QCORRSRC) MBR(&MEMBER)
             GOTO       CMDLBL(LOOP)
/*                                                                 */
/* Global error handler.                                           */
/*                                                                 */
 ERROR:      IF         COND(&ERRORFL *EQ '1') THEN(SNDPGMMSG +
                          MSGID(CPF9898) MSGF(QSYS/QCPFMSG) +
                          MSGDTA('Internal error.') MSGTYPE(*ESCAPE))
             CHGVAR     VAR(&ERRORFL) VALUE('1')
             RCVMSG     MSGTYPE(*EXCP) MSGDTA(&MSGDTA) MSGID(&MSGID) +
                          MSGF(&MSGF) SNDMSGFLIB(&MSGFLIB)
             SNDPGMMSG  MSGID(&MSGID) MSGF(&MSGFLIB/&MSGF) +
                          MSGDTA(&MSGDTA) MSGTYPE(*ESCAPE)

             ENDPGM