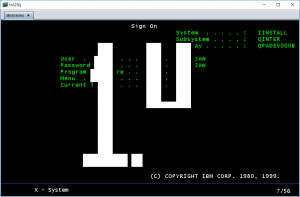 Aprils Fool are two programs designed to joke with the users when they login on the iSeries.
Two different programs are included in the package. Further the sources are included allowing you to do your own adjustments.
Download
You will get a ZIP file. Unpack the files in the ZIP file to a folder on your pc and run the iInstall.cmd file. You will be prompted to enter information in order to install the tool.
By downloading this utility, you agree to the conditions written in the paragraph 'Liability'.
» Download
Documentation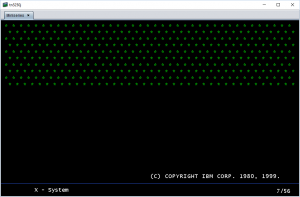 You can manually call the two programs by issuing the commands on an iSeries command line, type:
CALL JWTOOLS/APRIL1CL
or
CALL JWTOOLS/APRIL2CL
Press [ENTER]. If today's date is the 1st of April, the screen will be overwritten as shown on the two pictures in this article.
A test program is also included. It will run the two programs on any date.
You can copy the two programs and their display files to another library. The programs contains code that will find out what library the program is loaded from, and do an override to the display file. The programs and display files must be copied to the same library.
The package contains a source file called QAPRILSRC in which you will find all the sources in order for you to do you own adjustments or create new Aprils Fool program based on mine.
Liability.
This utility is delivered 'as is'. Neither Jesper Wachs nor anyone else who has been involved in the creation, production or delivery of this product shall be liable for any direct, indirect, consequential or incidental damages (including damages for loss of business profits, business interruption, loss of business information, and the like) arising out of the use or inability to use such product even if Jesper Wachs has been advised of the possibility of such damages.
© 2016 by Jesper Wachs. All rights reserved.