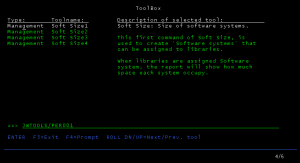 ToolBox is a menuprogram that will show all the tools of mine that you have installed.
Each tools is displayed with a descriptive text and tools can be run from the menu (of cause 😉 )
Documentation.
To start ToolBox, type the following on a iSeries command line:
JWTOOLS/TB
Press [ENTER] and the menu is shown.
The screen shows four things:
List of tools installed.
The list displayed the catagory of the tools and the name of the tool. The tool shown in top of the list, is the selected tool. To page though the tools, press the keys [PAGE UP] and [PAGE DOWN].
Description of tools.
This part of the screen, displays a short decription of what the purpose of the tools is.
Command line
Here the command line neded to start the tool is displayed. When you press [ENTER] the tool is started.
To leave ToolBox, press [F3].
Known limitations.
You can only see tools from me. In the future, maybe it will be possible to add your own tools.