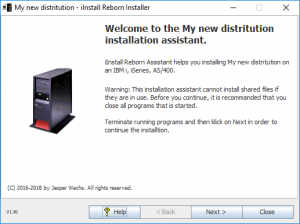 A new version (1.50) of iInstall Reborn is released.
Version 1.50 of iInstall Reborn is a free utility 🙂 What's not to like? 😉
Distribute your IBM i® objects in a nice installation package, that allows your friends and customers to easily install your software. No more typing FTP commands.
New in version 1.50 is:
Option to execute a command after successful installation
Spelling mistakes in the installer have been corrected
iInstall Reborn's wizard lets your customers install your software, without the hassle of issuing lots of commands for savefiles, transfers etc.
Read more about iInstall Reborn and download it: