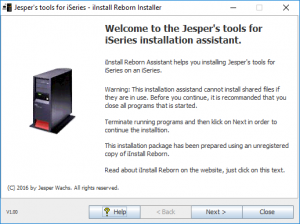 How do you distribute your IBM i objects? Are you instructing your friends and customers to use FTP to transfer savefiles containing your software and/or fixes? If yes, iInstall Reborn is what you need.
Provide your customers with a state-of-the-art solution in easy software installation on their IBM i.
iInstall Reborn's wizard lets your customers install your software, without the hassle of issuing lots of commands for savefiles, transfers etc.
Read more about iInstall Reborn and download it: