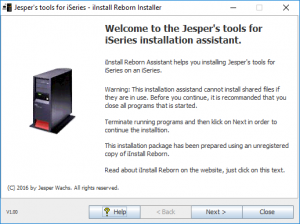 A new version (1.20) of iInstall Reborn is released.
With version 1.20 iInstall Reborn is now a free utility 🙂 What's not to like? 😉
Distribute your IBM i objects in a nice installation package, that allows your friends and customers to easily install your software. No more typing FTP comands.
New in version 1.20 is:
Use of and check for License file has been removed.
A Logfile has been added. The logfile is saved in 5 versions.
Spelling mistakes have been corrected.
Moving the mouse over checkboxes for Welcome,License Agreement and Finished text triggered that the distribution has changed. This has been corrected.
Is now able to read supported versions of OS/400 from the host. This is presented in the DropDown 'Target release'.
A button has been added to check for new version of iInstall Reborn on my web site..
iInstall Reborn's wizard lets your customers install your software, without the hassle of issuing lots of commands for savefiles, transfers etc.
Read more about iInstall Reborn and download it: