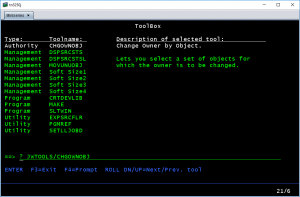 Jesper's ToolBox for IBM i is a collection of some of my IBM i tools, all wrapped up in a nice installation program, easy to install 🙂
Jesper's ToolBox for IBM i V1.30 contains these tools:
Change Owner by Object.
Create Development Library.
Display Source Status.
Export Source to Folder.
Make.
Move Unused Objects.
Program Reference.
Selection Window.
Set Library List from Job Description.
Soft Size.
Read more about these tools, and download, them from here.
Note that the tools are wrapped up in an installation package made by iInstall Reborn that will be available soon 🙂 An appetizer is available here.